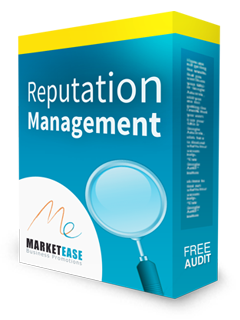 Your company's reputation is one of your most valuable assets. Protect and manage it well…
The world of marketing has changed. What used to be a pay/promote model – where large companies could profit just by spending loads of money on advertising – is no longer possible. The control is given back to the consumer, who has the ability to research you, your company and your brand online before dealing with you.
Have you ever thought about what is currently being said about your brand online? When you do a search on Google for your name or your brand, is what's displayed an accurate and positive representation of your true brand?
If you've already spent much of your marketing budget on offline traditional channels, you need to make sure you also have a strong online reputation management campaign in place. Research shows that most people today do not believe that companies tell the truth in advertising. Many of these people are going online to research a particular company, person or brand before making the commitment to buy.
Your reputation is a very valuable asset for your company and determines whether or not consumers will put trust in you and your company. Keep control of your brand, and let us monitor and manage your online reputation.
You or your company need online reputation management if:
1

You've ever had a nasty court case which is published online, and comes up on the first page of Google for your name.

2

You've fallen victim to traditional media who have spun your story to make you into the villain.

3

You are a large company who has already spent millions on branding.

4

You deal with a very targeted segment of high end clients, where the difference between getting the contract or not is based on your reputation and brand.

5

You have trolls (competition) who have published negative content about you online.
Whatever your circumstance, we can help you manage what is being said about your business online, including what gets displayed on the front page of Google when people search for your brand.
Case study Wellness & Lifestyles Australia
Wellness & Lifestyles Australia (W&L Australia) is a company that provides health care services and training to the aged care sector. Being one of the main providers in their industry, they were targeted by the ABC 7.30 Report, who came and interviewed them. Of the 30 minutes of interview, only one line was used, and the story was spun to attack the whole aged care industry in Australia, accusing them of using the system for their own profits. While they have accepted that the story that was published was not thoroughly researched, and had misleading and inaccurate information, the damage was already done. Furthermore, a search for W&L's CEO's name on Google showed the recording of the televised program on the front page of Google.
We quickly set to work helping the company CEO put together a video response to the accusation, and posted it on the company website and other websites around the internet. We also helped to push the ABC report down out of the front page results. The result was that the company's brand isn't tarnished by an inaccurate, under-researched attack on their brand. W&L has continued to grow, and through their video response, they were able to come across as the hero of their industry.
This is just one of the many case studies where our online reputation management services were vital to a company.