Tips to Make Sure Your Blog Actually Helps Your Business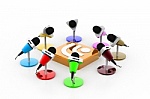 If you try to keep up to date on good online marketing strategies you probably know that business blogging is highly recommended.  It helps you with SEO, it keeps your website fresh, it provides great interactive elements for visitors, it feeds social media marketing initiatives, it helps you build your brand and reputation, and the list of benefits goes on. But the wrong approach to business blogging could make things counterproductive for you.
Read on for some things to remember:
Write for your audience first, search engines second.  A mistake many new to blogging make is that they try to think of their blog as their SEO cash cow. It won't get you very far if it's only written for search engines. Write for your audience first and foremost. Provide content of value and it will bring you more benefits than just keyword rankings. Pay attention to which types of posts do well for getting comments, going viral, getting traffic, etc and this can help you with your strategy going forward.
Don't be overly promotional. It's fine to toot your own horn (it's even a good idea at times) but if your blog is too salesy or too pushy it won't likely gain any subscribers, it won't likely create any viral effect on social media sites, and it probably won't do all that much for you in general. Of course you don't want to neglect to add a call to action where appropriate, either (sometimes you have to ask for business in order to get it). Strive to strike a balance between promotional and valuable for the best results.
Publishing blog comments can be extremely helpful. You don't want to allow the spam posts through as they could cause your site harm, particularly if they use foul language or link to unsavoury sites, but valid comments can be very helpful in telling search engines there are people talking about your post and in gathering an audience.  Interact with your audience and it will help you build a following and extract even more potential for success from your business blog. Don't be afraid to let the less than stellar comments through, too (provide they're not just someone being nasty and 'trolling'). If you get a negative comment, address it — this shows willingness to listen and gives you an opportunity to learn as you go.
Post regularly. Many business blogs don't post often enough to truly benefit. A regular schedule will provide you with good SEO results as well as help you develop a relationship with your audience, getting them looking forward to your updates! But keep in mind that 1 good post a week can be much more effective than one 'ok' post a day. A prolific blog can be a good thing but don't place quantity ahead of quality on your priority list.
(If you need help, you can hire professional blogging services, too, so that you can focus on your business while your blog helps you continually grow. Talk to us at Market Ease. We've got skilled blog writers who can help you as part of your online marketing strategy.)
Photo: renjith krishnan/FreeDigitalPhotos.net